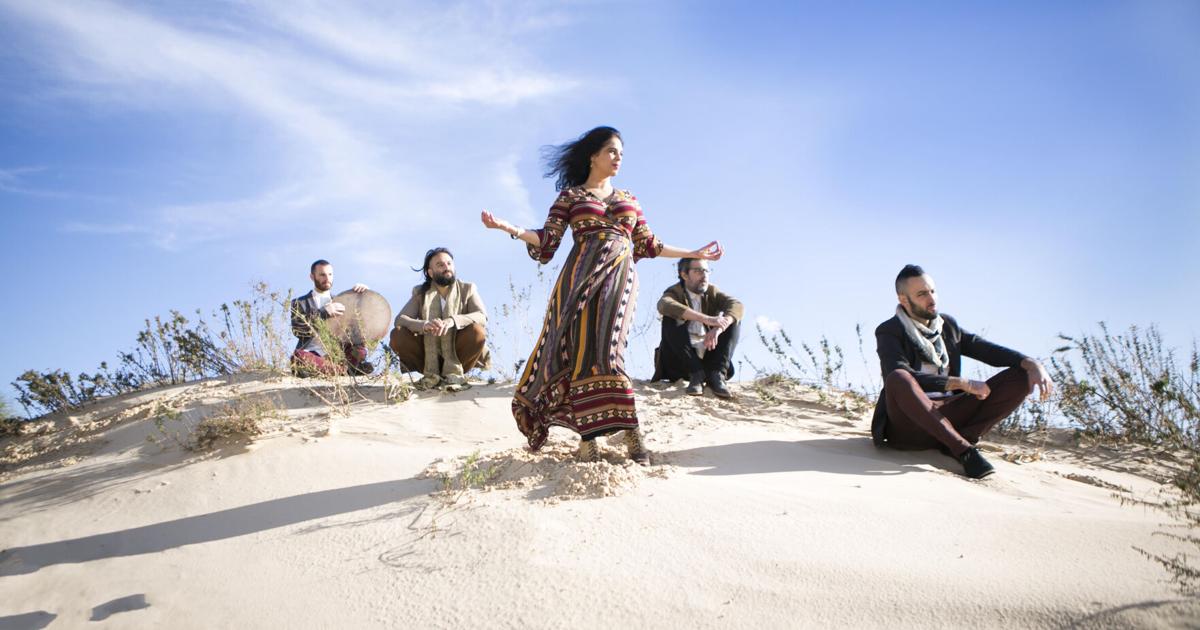 Yamma Ensemble will bring music from the Mizrahi Jewish Diaspora to Race Brook Lodge in Sheffield | Berkshire landscapes
Israeli music group Yamma set took YouTube by storm, racking up literally millions of views for their mesmerizing mix of Middle Eastern music sung in Hebrew, drawn from the vast diaspora of Jewish migration in that region and North Africa.
This fall, after European summer trips from Denmark to Croatia, they will embark on a tour across the United States, taking them from Massachusetts to California, before wrapping up the year in Morocco and Turkey.
They will begin their North American travels in Sheffield, at the rustic Race Brook Lodge.
"We are all excited to come to the United States," singer and bandleader Talya Solan said by phone from Tel Aviv, Israel.
"Our last US tour was 10 years ago, in 2012. Most of our YouTube audience is there. We're rehearsing and preparing, and hope everything goes well because we have a very tight schedule. .
Solan formed Yamma – meaning "to the sea" in Hebrew and "mother" in Arabic – in 2010 in preparation for that original US tour. With some personnel adjustments after a year, "the second year we toured very successfully and we've now been together for 12 years," she said.
Yamma, which is a five-member group, will perform as a quartet at Race Brook Lodge.
Solan studied music theory at Tel Aviv University and took private singing lessons.
"I've been performing since 2005, doing my own music and musical direction," she said.
Although she is also a guest vocalist on other projects, Yamma is Solan's main musical outlet. "I'm the one directing and choosing the material," she said — working as a team with her fellow musicians, she noted, all of whom are in high demand for other work.
Yonnie Dror is the wind instrument player. "He's amazing, he plays Middle Eastern instruments and also Western saxophone," Solan said. He is particularly acclaimed for sounding the Shofar, a ram's horn more commonly heard at Jewish New Year religious services. "It's not an instrument, but it knows how to bring out a really good sound out of it," she added.
Sahar David replaces longtime Yamma percussionist Nur Bar Goren, who stayed home with his new baby. In addition to playing percussion, David sings and also plays the ney, a flute from the Middle East.
Aviv Behar made his debut in the United States, mainly playing traditional Middle Eastern string instruments like the oud and kopuz. He has a successful career in Israeli pop music, Solan said, "but the Middle Eastern side he brings to Yamma is totally different. It's really amazing that each of this group has other colors, other faces to show in the music.
Behar also composes and writes lyrics in Hebrew. "I like the way he writes poetry," Solan said.
Yamma mainly performs live outside of Israel. "I sing mostly in Hebrew, we're the only band from Israel that exports Hebrew lyrics," Solan said. Outside the country, most Israeli bands sing Diaspora Jewish languages ​​like Yiddish, she said.
"Hebrew is the oldest language, it has been linked to Judaism since biblical times. It is the only dead language that has been revived and is still spoken.
Some of Yamma's songs include Arabic lyrics, and concerts often begin with a song that switches from Arabic to Hebrew.
"We tried to collaborate with Arab groups," Solan said, "but it's very difficult, because they have problems if they are seen with Israelis. We wanted to do a collaboration to launch a new album where I sing in Arabic, and found a band that we really liked, but they told us very kindly that they were not available.
Unlike more familiar European Ashkenazi and Sephardic Judaism, Yamma plays music drawn from the rich Jewish cultures of the Mizrahi diaspora, which stretches from Morocco to former Soviet lands. Their music is both contemporary and traditional.
"We honor and respect our origins and our heritage," Solan said — a heritage that includes mostly non-European countries, fairly typical for Israelis their age. In a country as relatively young as Israel, she explained, people started immigrating in the 1950s, 1960s and 1970s, from different corners of the world, and mixed together.
"My mother's origins are Bulgarian, my father's are Yemeni. Yonni's father is Iraqi, Aviv is a mixture of Turkish and Bulgarian parents. Each of us brings backgrounds from both sides.
They are all ethnic Israelis, known as Sabras. "We were born here, but when you go to your grandmother's house and she talks [another language] with your mom, you can't miss it," Salon said.
Migrant Jews brought the ancient Middle Eastern instruments from their homelands, which Yamma uses to perform their music, along with Hasidic tunes, in a heady mix of religious and secular chants.
Musically, Israel was heavily influenced by neighboring Arab countries such as Syria, Lebanon and Egypt, Solan said. Certain musical traditions are immediately recognizable – Arabic music with its quarter tones, the harmonizing polyphonic choirs of Bulgaria. "But there's not something you can say is Israeli, other than the mix of cultures," she said.
For people used to the semitone of a piano, the lute-like quartertone of the oud may sound off, she warned.
Yamma draws age-old sounds and rhythms from contemporary compositions.
"[Audiences] let's hear the tapestry, the color, the richness of contemporary Israeli culture, the traditions but also our own creations, [that reflect] what happened in our lives. We hope they enjoy it."
Solan can't wait to start Yamma's US tour at Race Brook Lodge. "It's not hectic or noisy, which is why we chose it. After a very long flight, we land in such a peaceful place.
The general manager of the hall, Casey Meade Rothstein-Fitzpatrick, is delighted to welcome them. Ten years ago, the widely traveled documentary filmmaker took over the reins of the historic inn, restaurant and concert hall his family has owned for more than 30 years. He brings eclectic musical interests to the lineup of live shows at his 200-seat Barnspace concert hall and speakeasy in the basement of the Down County Social Club, the latter now returning to weekly events.
The Stagecoach Tavern restaurant, normally closed on Wednesdays, will be open to people coming to this concert, he said.
This is the first group from Israel that he presents. "It's beautiful music, I don't need any other reason," he said. "It's a fantastic set, I listened to them online and was inspired by their musical sense and their unique sound. We are always interested in welcoming really talented artists from different cultures and exposing people to great music. music they wouldn't otherwise see live.
Besides American bands, Rothstein-Fitzpatrick orchestrated an impressive array of world music. "We hosted Alsarah and the Nubatones, an urban contemporary ensemble from New York with musicians primarily from North Africa and Egypt," he said. Also artists from Crete, members of the Brooklyn Raga Massive collective, African kora player, Indian classical music, Dominican and Brazilian bossa nova music, Indo-Middle Eastern influenced Epichorus and esoteric ensemble Tribe of Love almost every year.
"We try to mix genres a bit," he said.
"I have as much respect for people who want to preserve their tradition as for others who want to embellish and develop it," he added. "Music and the arts are often the best ways to gain a window into different cultures."
If you are going to:
What: Race Brook Lodge Barnspace Concert
Who: Yamma All of Israel
Where: Race Brook Lodge, 864 S. Undermountain Road, Sheffield
When: 7:30 p.m. Wednesday, September 14
Tickets: $20 to $30. Stagecoach Tavern open for dinner before the event.
Ticket office/Information: www.rblodge.com413-229-2916