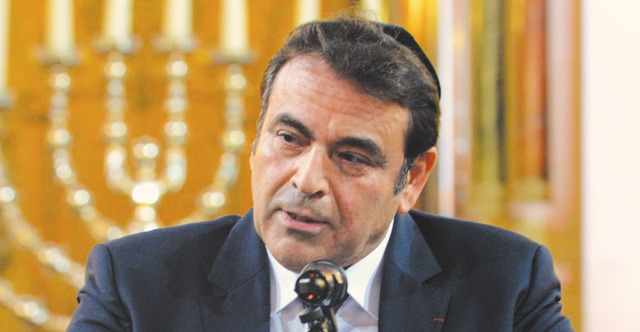 "When we fight anti-Semitism, we can fight all forms of hatred in the world"
"When we fight anti-Semitism, we can fight all forms of hatred in the world," said Joël Mergui, president of the Jewish Consistory of Paris and the European Center for Judaism, during an intervention last week at the of a symposium in Kiev. , Ukraine, on the eve of International Holocaust Remembrance Day.
His remarks come as a new study reveals the extent of anti-Semitism in France, the country of the largest Jewish community in Europe.
"The number of anti-Semitic acts in 2021 has increased in France compared to 2020. Above all increasing violence. There is a rise of extremes in France, in Europe and in the rest of the world. This is very worrying because this anti-Semitism comes from both the far right and the far left – but also from Islamism," Mergui said.
The survey conducted by Ifop reveals that 68% of French Jews have already been insulted because of their religion and that 20% of them have been victims of physical attacks. A phenomenon rooted in school.
In France, 55% of Jewish parents advise their children not to wear a distinctive sign for fear that they will be the target of physical or verbal aggression.
The survey by the Foundation for Political Innovation and the American Jewish Committee reveals the former weight of prejudice.
"Negative stereotypes towards Jews are still very present" in France, write the authors of the new "X-ray of anti-Semitism".
"Puns, insults, verbal and physical attacks, the year 2021 was marked by the multiplication of anti-Semitic incidents", indicates the survey. 74% of French Jews say they "have already experienced anti-Semitic behavior, ranging from mockery to physical aggression, including insults or verbal threats".
Two-thirds of French respondents believe that anti-Semitism is widespread (64%) and on the increase. Most French people of Jewish faith or culture (73%) believe that anti-Semitism has become more and more prevalent over the past ten years. This survey also reveals that 30% of those questioned agree with the idea that "Jews are richer than the average Frenchman".
Other clichés persist: "Jews have too much power in the field of economy and finance" resonates with 26% of respondents. 24% of respondents find that "Jews have too much power in the media". These figures are stable compared to the survey conducted in 2016.
53% of respondents have already been insulted
The thoughts about the Jews remain ingrained and the jokes in bad taste are always present. Two-thirds of French respondents (68%) have already witnessed "derogatory mockery or vexatious remarks". "These 'derogatory mockeries' cannot be equated with acts of violence, but their scale testifies to the permanence within French society of ancient anti-Semitic prejudices, prejudices which Jews are frequently confronted with," the study indicates.
Jews are not only victims of jokes, anti-Semitic acts persist. 53% of people surveyed say they have received insults (48% in 2019), "threats of assault (24% in 2021, compared to 22% in 2019), theft and damage (22% in 2021 and 2019) and physical attacks (20% in 2021, 23% in 2019)" according to the survey.
Social networks have become one of the spaces where anti-Semitic discourse is released the most according to the survey: "28% of French Jews say they have already been threatened on social networks, a proportion that even reaches 46% for those under 25 years. old." More and more young people say they are victims of anti-Semitism. In 2019, 53% of 18-24s said they had been insulted at least once, they are now 63%. Social networks are often cited, but the school has become "the first place of exposure to anti-Semitic violence".
60% of victims say they have been attacked at school, 42% of them on several occasions. "Jewish families have understood this and often ask their children not to wear recognizable signs of their Jewishness, and even to avoid revealing the fact that they are Jewish. This is why these families are increasingly sending their children to denominational, Catholic or Jewish schools," the survey said.
This study also shows that a certain category of the population is more receptive to anti-Semitic prejudice: men over 65 years old. "The spread of anti-Semitic bias is also more prevalent on the far left and far right," the researchers noted.
The survey also indicates that almost half of French Jews (46%) have already considered leaving France, six points less than in the 2019 study. What changes are the reasons for leaving? 13% of respondents want to leave France out of fear for their future, compared to 21% in 2019. On the other hand, cultural or religious reasons have increased in three years, from 6% to 12%.
In their conclusions, the researchers note "that between a quarter and a third of our fellow citizens share these anti-Semitic prejudices. This new X-ray of anti-Semitism confirms the persistence of anti-Semitism at the heart of French society."
Joël Mergui Mergui called for the appointment of a person responsible for the fight against anti-Semitism in each European country. "Unfortunately, countries often name a person responsible for any hate. 'Each hate must be treated differently and anti-Semitism must be dealt with specifically,' he said.
While these statistics are cause for pessimism, Mergui said "our responsibility today is that Judaism lives on."
"There is also a reason to be optimistic because today there is the State of Israel. Half of the Jewish population lives in their land of origin and another half living in the world go back to synagogues, traditions, claim their identity. Let us continue to proudly wear the yarmulke and keep Judaism alive," he added.