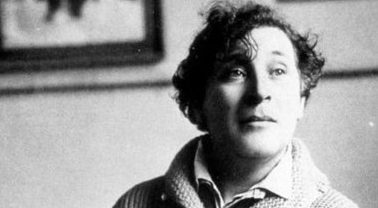 The spiritual depth of the works of Marc Chagall
The Jewish artist maintained a creative connection to his Hasidic faith and was able to translate it into a "universal" language.
It was Pablo Picasso who claimed that after the death of Henri Matisse, no other painter had been able to "obtain color" like Chagall. As Vittoria Traverso explains in her article on Chagall's stained-glass windows, his "dreamlike style and choice of subjects—love, faith, grief—gave his works a deep humanity that stood out from most abstract and intellectual creations of his modernist contemporaries. In a word, his work was decidedly embody.
The book by visual artist and psychoanalyst Jennifer A. Swan Of the Spirit and of Self: The Religious Art of Marc Chagall, explains Chagall's place in the history of 20th century art as an essentially religious artist. In the words of Dr. Murray Steinauthor of The Bible as a dreamSwan's book "captured the astonishing breadth of Marc Chagall's spiritual vision. It is an artist [Chagall] for our time of division, a bearer of healing.In short, Swan's book explains how Chagall was able to draw from the sources of his own Hasidic Jewish faith and tradition and "translate" them into a "universal" language – that is, he would go to the heart of his own religious experience. , to clarify and express it in a visual language that is symbolically dense but still accessible to everyone. In this direction, "Chagall was one of the most prolific and important religious communicators of the 20th century."
The director of the Marc Chagall Biblical Message Museum in Nice (France), Jean-Michel Foray, claimed that Chagall was the painter who "returned to art the elements that (most) contemporary artists rejected, such as allegory and narrative – art as commentary on life". This preservation of the role of art as comment is part of Chagall's Jewish heritage, Rabbinic literature composed mainly of collections of biblical commentaries.
In reality, Pope Francis has referred to Chagall's 'White Crucifixion' as one of his favorite paintings, emphasizing its "narrative" power. In a biography published in 2013, Pope Francis: Conversations with Jorge Bergoglio: His Life in His Own Wordsthen-Cardinal Jorge Mario Bergoglio said the "'white crucifixion' of Marc Chagall, who was a Jewish believer, is not cruel, but hopeful […] The pain is depicted there with serenity. For me, it's one of the most beautiful things he painted.
© VATICAN MEDIA / CPP
On François' predilection for this painting, Denver Diocese website Note that:
"White Crucifixion" was painted in 1938, on the threshold of World War II, after Chagall learned of the horrific Nazi programs against Jews. In the painting, a crucified Christ is surrounded by scenes of terror and devastation. Above the cross float three rabbis and a Jewish matriarch, in obvious dismay. A man in the lower left flees with the Torah, as on the right we see the Jewish holy book in flames. A man in green runs off with his backpack slung over his shoulder, while below him a distraught mother cradles her child – an image reminiscent of so many recent photographs of Syrian and Iraqi refugees fleeing the brutality of more immediate conflict.

On the left of the canvas is a boat presumably full of emigrants, while above them a village is overturned and in flames, its inhabitants and their possessions scattered amidst the chaos. Although Pope Francis spoke about this painting many years ago, it is sadly even more relevant today as the land is currently experiencing its worst refugee crisis since World War II.
Windows of Peace by Chagall
Traverso's article explains how, in the early seventies, the Russian-born master began to work with stained glass. "In 15 years," Traverso continues, "Chagall designed iconic shimmering blue windows in synagogues and churches across Europe which are now known as windows of peace." Having spent much of his life in Catholic France, Chagall was interested in spreading a somewhat "universal" message of peace, love and tolerance using both Jewish and Christian themes.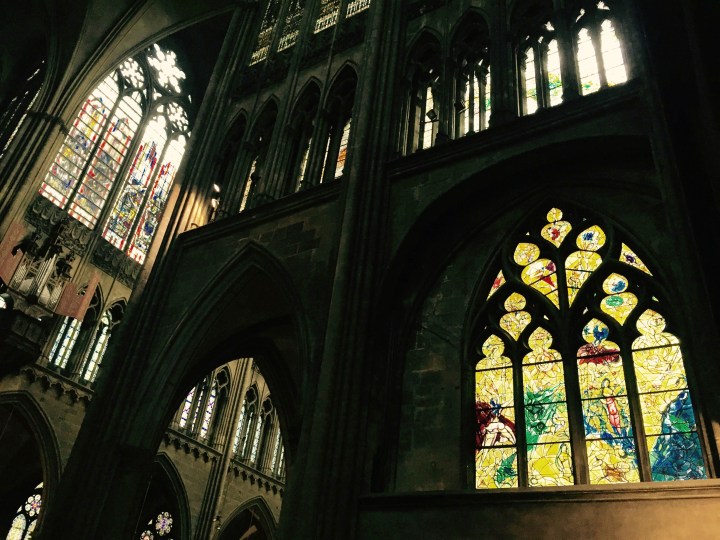 "For me, a stained glass window is a transparent partition between my heart and the heart of the world," said Chagall. "It's uplifting and uplifting."