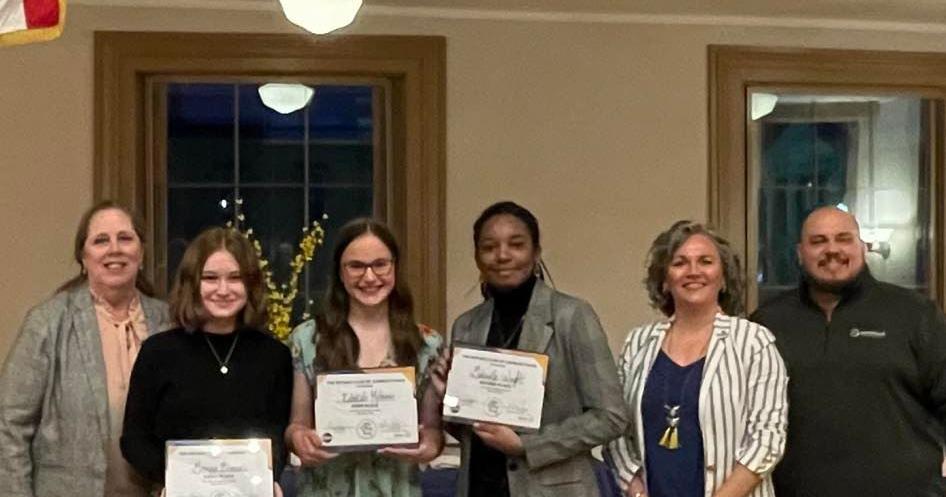 Rotary rewards student efforts in speech contest | Journal-news
CHARLES TOWN – Charles Town Rotary, in conjunction with the Washington High School Interact Club, coordinated a local speech contest focusing on the 4-way test.
According to Rotary President Julia Yuhasz, the purpose of the four-test is to promote ethical principles in everyday life, as well as in business.
"These are the main questions that guide the decision-making of Rotary and its members," Yuhasz said.
The speech contest was designed to introduce high school students to Rotary, in general, and the principles of the 4-Way Test, in particular. Those who chose to enter the competition were able to select their own topic and then apply the 4-way test to an ethical challenge of their interest. The competition is open to club level, regional level and Rotary district competitions. Those who excel in the competition receive prizes at each level, with the possibility of winning $1,000 at the district level.
According to Yuhasz, the challenge of the contest was to analyze a subject's ethics using the 4-way test: (1) Is this the truth? (2) Is it fair to everyone involved? (3) Will it build goodwill and better friendships? (4) Will it benefit everyone involved?
Each participant at the local level of the competition wrote and delivered a persuasive five to seven minute speech, which demonstrated an understanding of the principles, the importance of applying them in daily life and examples of application.
"Topics analyzed at the Charles Town contest included animal adoption, overwork and restlessness, and the impact of literature," Yuhasz said.
Prior to the competition, each student was paired with an experienced speaking coach who helped guide their presentation. These partnerships are the result of coordination with the Wild and Wonderful Toastmasters.
The contest took place at Charles Washington Hall, where the winning speaker was Becky McGivern, who applied the 4-way test about pet adoption. As the winner, McGivern received a certificate, a $100 monetary award and a gift bag. She will next compete in the regional pageant in Hancock, Maryland on April 9.
Gabrielle Wright and Georgia Brenneke took second and third place respectively. Both received certificates, monetary awards and gift bags for their efforts.
"Public speaking can be scary for many of us," Yuhasz said. "I really commend these students for their bravery and intelligence in taking on this challenge. It's a skill that will serve them for the rest of their lives.
The Rotary Club of Charles Town, a chapter of Rotary International and Rotary District 7360, is committed to the Rotary 4-Way Test and Rotary's guiding principle: "Serve Before Self." The club meets at 12:15 p.m. each Wednesday at Charles Washington Hall in Charles Town. Guests are encouraged to attend an upcoming meeting or learn more about the club by visiting www.rotarycharlestownwv.org.