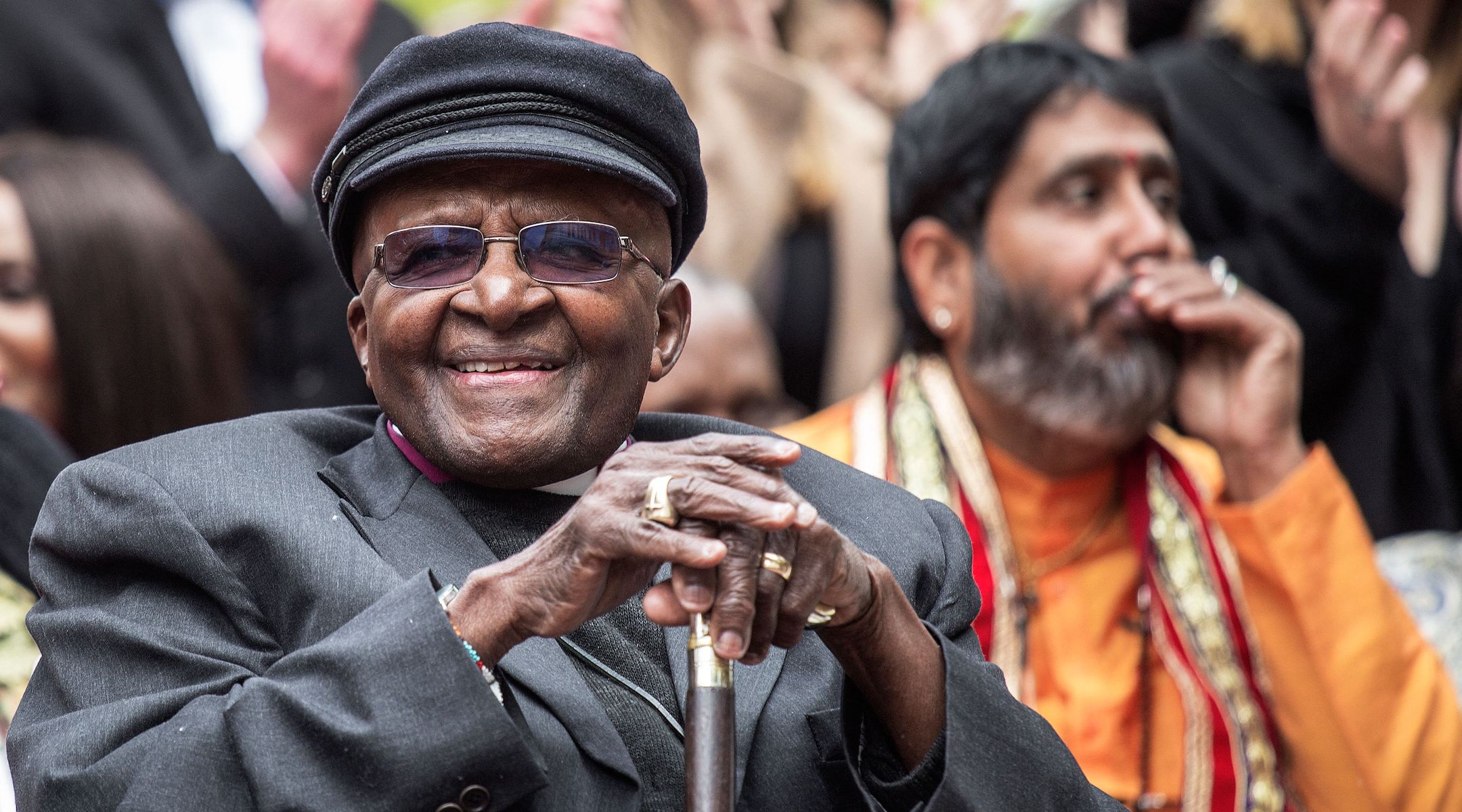 Desmond Tutu, anti-apartheid leader who identified with Jews and criticized Israeli treatment of Palestinians, dies at 90
(JTA) – Desmond Tutu, the archbishop who closely identified with the historic suffering of the Jewish people in his strong advocacy against apartheid in South Africa, died Sunday at the age of 90.
Tutu, Cape Town's first black archbishop, used his role as church leader to bring religion into the fight against apartheid, South Africa's repressive system of racial segregation. Advocating for non-violence and, later, restorative justice, Tutu gained fame far beyond South Africa, winning a Nobel Peace Prize in 1984.
In the years leading up to and during negotiations to end apartheid in South Africa, Tutu often praised the many South African Jews who opposed the apartheid system and worked alongside the Black South Africans to move to a fair governance system. He has often invoked the Holocaust, comparing the struggles of Jews under Nazism to the struggles of black South Africans under apartheid.
Want the news delivered to your inbox? Sign up for the daily JTA briefing.
REGISTER HERE
Addressing a gathering of British Jews in 1987, he spoke of this shared experience of exclusion and persecution.
"Your people know what we are talking about, having suffered because you belonged to a particular racial group. You had to wear armbands. We don't wear armbands… they just have to look at us, "Tutu said, according to a Jewish Telegraphic Agency dispatch from the event.
But Tutu's identification with the Jewish people did not spare them from his criticism. While constantly defending Israel's right to exist and calling on Arab nations to recognize Israel, including when addressing a Palestinian audience, Tutu frequently criticized Israel's occupation of the West Bank and wondered how people who had survived the Holocaust could carry out the occupation of another people.
"Arabs should recognize Israel, but a lot of things also need to change. I myself am sad that Israel, with the kind of history and traditions that its people have known, makes refugees of others. It's totally incompatible with who she is as a people, "he said in a 1984 speech at New York's Jewish Theological Seminary.
Tutu also criticized Israel for continuing to work with South Africa on military issues despite apartheid.
"The integrity and existence of Israel must be guaranteed. But I can't understand how a people with your history would have a state that would collaborate in military affairs with South Africa and conduct policies that are a mirror image of some of the things your people have suffered from, "he said. he said in his 1987 address to British Jews.
These comparisons, along with remarks that some Jewish leaders characterized as anti-Semitic, have earned the Tutus criticism from some Jewish leaders. In his 1984 JTS speech, he responded to some of these criticisms while further fanning its flames with references to a "Jewish lobby."
"I was immediately accused of being anti-Semitic," Tutu said in his speech, referring to the reaction to an earlier speech. "I'm sad because I think it's a sensitivity in this case that comes from arrogance – the arrogance of power because the Jews are a powerful lobby in this country and all kinds of people are looking for their support."
During a visit to Israel and the West Bank in 1989, Tutu made the controversial suggestion during a visit to Yad Vashem, Israel's Holocaust memorial, that the Nazis should be forgiven for their crimes against the people. Jewish. The suggestion reflected Tutu's role as chairman of South Africa's Truth and Reconciliation Commission, which aimed to bring the country into a new era by allowing those who participated in apartheid to atone for their sins. and let the victims of the system voice their grievances and, in some cases, receive reparations.
"We pray for those who have done it, forgive them and help each other forgive them, and help each other that we do not, in turn, make others suffer," he said, according to a dispatch from the JTA at the time.
Jewish leaders criticized Tutu for his comments. "For anyone in Jerusalem, in Yad Vashem, to speak of forgiveness would be, in my opinion, a disturbing lack of sensitivity towards the Jewish victims and their survivors. I hope that was not Bishop Tutu's intention, "Elie Wiesel said at the time.
(Earlier that year, Tutu had suggested that he and Wiesel could work together to mediate peace in the Middle East.)
Despite his comments, Tutu was frequently honored by Jewish organizations. In 1989, he was honored for his work against racial discrimination by the Stephen Wise Free Synagogue in New York. In 2003, the Cardozo Law School of Yeshiva University awarded him an award for promoting world peace.
In 2009, the same year then President Barack Obama awarded him the Presidential Medal of Freedom, Tutu was turned away from speaking at a university in Minnesota because of the remarks he had made. on the Jews and Israel.
Abraham Foxman, then national director of the Anti-Defamation League, urged the university not to cancel the invitation.
"Tutu was certainly an outspoken, at times very harsh critic of Israel and Israeli politics, and at times also used examples that may overstep the line," Foxman told JTA at the time. But Tutu "is certainly not an anti-Semite and should not be so characterized and therefore refused a platform."
In 2015, Tutu addressed an event organized by Israeli organizations Fighters for Peace and Parents' Circle on the occasion of Israel's Memorial Day for Israeli and Palestinian parents who have lost children to the conflict in a short speech video.
"If change seems impossible, think about our experience in South Africa," he said. "You can do it in Palestine and Israel as well. "