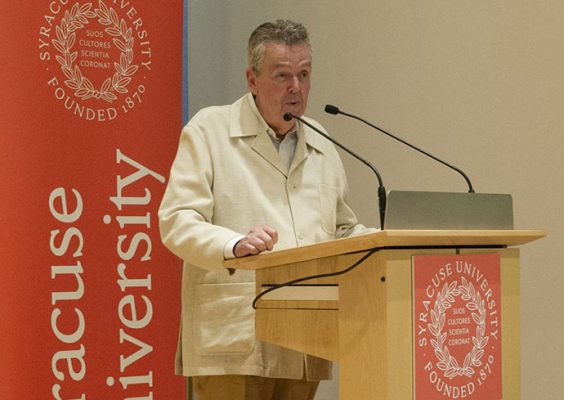 Creative Writing Scholarship Honors Memory of Tom Walsh, Former Executive Vice President of Advancement and External Affairs
[ad_1]
Passion and creativity are at the heart of great storytelling. Those who knew Tom Walsh G'84 would say he weaved each of these qualities into his work in both theater, fundraising and alumni engagement at Syracuse University. Walsh, who died in May 2019 following a long battle with cancer, was a lifelong supporter of the arts and literature. To honor his legacy, a scholarship was established in his name through a donation from Newhouse School alumnus Jonathan Resnick '89 as part of the University's Forever Orange campaign. The scholarship will support the next generation of storytellers in the new undergraduate program in Creative Writing in the Department of English at the College of Arts and Sciences.
Mix drama and fundraising
While Tom Walsh would spend most of his professional career raising funds for Syracuse University, it was his interest in theater that first drew him to the Hill. After earning a bachelor's degree in English from Le Moyne College in 1971 and teaching at the Christian Brothers Academy in Syracuse for three years, he enrolled in the College of Visual and Performing Arts, earning an MFA in Directing. In 1979 he joined Syracuse Stage as a founding playwright, principal director and producer.
Walsh would turn to the student side of the University in 1987, accepting a position as an Events Administrator for the Division of Student Affairs, working with students in the directing of dance, music, theater and dance. other cultural events on campus.
Four years later, Walsh joined the University's development team, becoming Director of Major Gifts for Washington, DC, and in 1995 he expanded his responsibilities with a dual appointment as Senior Director of Development and Director from Federal Relations to the Government and Community Office. Reports. He was appointed assistant vice president for development and public affairs for New York City in 1999, where he led efforts to expand and strengthen the university's fundraising, public relations and alumni and marketing activities in the greater New York City area. In 2002, Walsh was appointed Vice President of Leadership Gifts and in 2005 was appointed Senior Vice President of Institutional Advancement.
During his nearly 40-year career at Syracuse University, Walsh has secured over $ 7 million in federal research funding for faculty, played a key role in strengthening the role and presence of Lubin House in New York and helped run the highly successful $ 1 billion "Scholarship in Action – The Campaign for Syracuse University.
In 2014, Walsh became Special Advisor to the Chancellor, then was appointed Special Advisor to the Director of Advancement and Senior Vice President of Advancement and External Affairs before retiring in 2017.
Matthew Ter Molen, current director of advancement and senior vice president of advancement and external affairs, said that Walsh's determination and strong leadership have led to successful fundraising efforts which have been at the basis of the University's continuous upward trajectory.
"Tom was passionate about Syracuse and saw the university from the perspective not only of an employee, but also of a student," says Ter Molen. "He was an intelligent, motivated and creative person whose legacy and commitment to Syracuse will be forever remembered."
A Master in Motivation
Charles Merrihew, vice president of administration and engagement, worked with Walsh for 10 years during a time when Walsh oversaw the corporate fundraising and alumni engagement division. He calls Walsh a mentor and says his big picture and the confidence he has instilled in his team have helped their group achieve the goals of the division and the University.
"Tom was never the type to know what was really needed to make some of his ideas a reality. . Walsh's keen sense of assessing the talents of individuals who could work together as a team – a skill he developed when assembling the cast and crew for plays as a director – produced the desired results at the University.
In an interview with the Fall / Winter 2017 edition of Syracuse University magazine, Walsh admitted that he often relied on his previous experiences as a playwright to motivate those around him. As with any great performance where every member of the cast plays an important role, he believed that teamwork in any professional setting was essential to success.
"New buildings, college programs and scholarships are happening because everyone involved is playing their roles brilliantly," Walsh said in this interview.
According to Merrihew, Walsh laid the groundwork for strong fundraising, which has put the university well positioned for future growth.
Support creativity in the arts and sciences
The scholarship will be awarded to one student each year enrolled in the English Department's new Creative Writing Major. Launched in fall 2021, the 30-credit major is designed to develop students' skills as writers and readers of creative non-fiction, fiction and poetry. Classes include literature, creative writing workshops, and craft classes. They will address the challenges of the literary process with their fellow writers under the guidance of highly accomplished academic writers including Chanelle Benz, Mona Awad, Dana Spiotta, Jonathan Dee, Brooks Haxton, Bruce Smith, Matt Grzecki, Sarah Harwell, and Christopher Kennedy.
Sarah Harwell, Associate Professor of English and Associate Director of the Creative Writing Program, says the Tom Walsh Memorial Fellowship will help strengthen the study of arts and literature at Syracuse University for many years to come. future.
"The Creative Writing major is premised on the premise that great literature needs a diverse group of voices in order to portray a wide variety of human experiences," she says. "This indispensable scholarship will ensure that a talented student will have the chance to learn how to tell his or her story."
Dean of the College of Arts and Sciences, Karin Ruhlandt, adds: "In all A&S programs, students develop their capacity for critical thinking and ethical action. This is especially true in the Creative Writing program, where faculty and students seek to address the challenges we face today through the art of writing. We thank Jonathan Resnick for his generous donation, which honors Tom Walsh's lifelong commitment to this university and the arts. The Tom's Name Fellowship will support the creative work of A&S student writers in the future.
In an interview in 2017, Walsh said, "We are at the edge of a noble cause that works for education, on behalf of students and faculty who try to create knowledge. It's a gift, something very special that we have been asked to participate in. Now, thanks to a donation to the University on its behalf, future award-winning authors will learn to hone their craft and create their own knowledge in Syracuse.
If you would like to honor Tom Walsh's memory with a gift to support undergraduate students majoring in Creative Writing, visit the Thomas J. Walsh Scholarship website.
[ad_2]