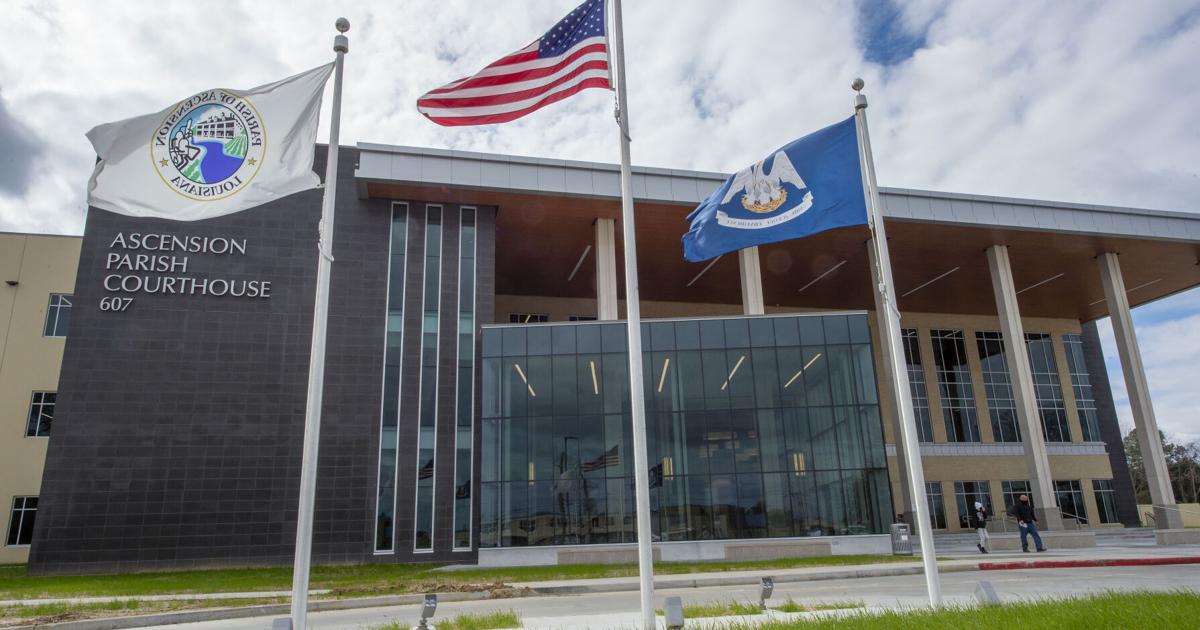 Antisemitism, charges of improper spending led top public defender to resign; he denies them | News
When the chief public defender of Ascension, Assumption and St. James parishes resigned in November after 12 years, he did so amid an investigation into allegations he had done anti-Semitic comments, allegedly hired his son inappropriately, and asked staff to do personal legal work for him. , show investigation documents.
The Louisiana Public Defender Board launched the investigation into Alan Robert on Sept. 30 after an email from one of Robert's employees raised some of the allegations, documents show.
Council investigators substantiated some of the charges of financial impropriety and some of the allegations of anti-Semitism against Robert, according to an investigation summary. Their findings weren't as strong on broader charges. Robert created a hostile work environment.
The state's public defender's board took no action because of the investigation, according to board papers, a board attorney and Robert. Council members declined to comment.
Robert resigned on November 30, but denied the charges against him.
"My resignation is the direct result of a false and malicious complaint that was filed against me," he wrote in a Nov. 11 email announcing his resignation to his staff and contract attorneys.
Robert says he was the victim of an unfair investigation by staff of the State Public Defense Board, calling it a "witch hunt" and "Spanish Inquisition".
Robert said the complaint was sparked by a disgruntled, non-lawyer employee who violated office policies and overpaid a contract attorney. He claims the employee filed suit against him after he raised the overpayment and notified the state's public defender.
Antisemitism allegations
The alleged anti-Semitic comments were directed at Susan Kutcher Jones, chief deputy defender of the 23rd Judicial District Court and Robert's longtime former litigation supervisor, with whom he had worked closely for years, according to an investigative summary from the staff.
Jones, who declined to comment on the survey, is ethnically Jewish and practical in the denomination of Reform Judaism.
Council investigators concluded that "several staff members confirmed hearing Mr. Robert make remarks to Ms. Kutcher-Jones that they considered anti-Semitic."
The investigative summary does not specifically describe the type of anti-Semitic comments that were substantiated. But other documents indicate that Robert made jokes about Jewish religious holidays in front of Jones.
Jones initially denied allegations of anti-Semitism about Robert to an investigator, but later admitted to another investigator that Robert had made anti-Semitic remarks about him, according to investigation records.
"She said he often made jokes and made statements about his religion that as a Jewish woman she just 'knows' the intent of the comments," the investigation documents state.
Board records show that she was not the initial whistleblower, but did not speak to investigators until after she launched the investigation. She spoke about her concerns about Robert and the fear some contracted defense attorneys had about talking to investigators, records show.
Robert vehemently denied the allegations of anti-Semitism.
"There are absolutely no factual allegations of anti-Semitism. In other words, it was just a general statement not supported by allegations of a specific nature," he said in an interview. "It's impossible to answer anything other than to say it's bull—-."
Investigators said they found allegations that Robert denied the Holocaust. Robert denied this, telling investigators he had visited a Nazi concentration camp and brought back for Jones a book about the camp and a gold Star of David with gems. Distant relatives of Jones' family suffered in the Nazi camps.
Investigators also uncovered allegations that judges and other 23rd JDC court personnel treated Jones in an anti-Semitic manner, particularly during religious holidays and court scheduling. But they drew no conclusions on these claims.
Alvin Turner Jr., chief judge of the 23rd Judicial District Court, said Thursday that he had spoken with other judges in the district and none, including himself, had been interviewed by council investigators.
He did not comment on the anti-Semitism allegations.
Alleged financial problems
Robert is accused of hiring his son to do legal work for the Public Defender's Office and paying him $1,845 in 2018 – council investigators called it a "clear breach of ethics". He is also accused of having a clerk do his personal legal work on public time.
The board also uncovered allegations that he paid his contract attorneys illegal $250 bonuses, paid them before they submitted their timesheets, and left the day-to-day running of the office to Jones and another staff member.
In a written response to the state board and in interviews last week, Robert accused the financial claims of being a rehash or misrepresentation of old issues that had already been resolved or were unproblematic. He said his office had quality financial audits and a $1 million surplus when he left Nov. 30.
Robert said his son returned the money after an earlier audit by the Public Defender Board. He also said the payment never resulted in ethical sanctions.
Robert told investigators that attorney payments were part of the regular compensation schedule, although investigators claimed the structure may still be illegal and noted that contract attorneys described their $250 payments as bonuses.
Robert told investigators Jones' role was to have day-to-day contact with attorneys and that he managed his office and another public defender's office with a vacant chief at the time of the investigation.
Hostile demands in the workplace
Among the allegations raised in the initial whistleblower email and subsequent interviews with staff members, Robert was accused of treating female employees with medical and family health issues differently than male employees, primarily by cutting wages.
"The 23rd Judicial District Public Defender's Office has become a hostile environment in which to work," the whistleblower's email claims. "We are mistreated by Mr. Robert because we are women."
The whistleblower also said Robert falsely told Jones she could face a hefty fine that could come after Robert hired and paid his son.
The staff investigation summary says investigators found the allegations of workplace hostility unclear, although they determined that two female contract attorneys were treated differently than their male counterparts in similar situations.
Robert said the difference in treatment came at the request of the lawyers.