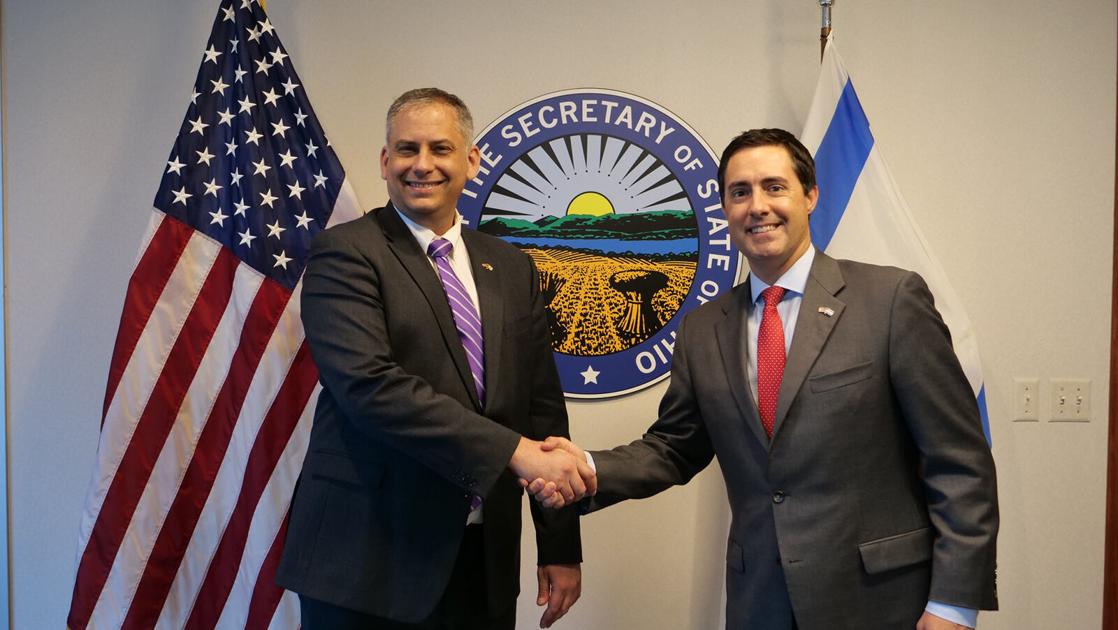 Acting Israel Consul General Describes Post-COVID-19 Efforts | Local News
Israel Nitzan, Acting Consul General of Israel at the Israeli Consulate in New York, met with government officials and community members in Cleveland and Columbus on July 1-2, during his first visit to Ohio since the start of the COVID-19 pandemic.
During these meetings, Nitzan discussed collaborative and bipartisan efforts that would strengthen relations between Israel and Ohio through shared technology, economic opportunities, and solutions to common societal issues.
"What we are looking for is to promote collaboration and cooperation between the Israelis and the people of Ohio," Nitzan told the Cleveland Jewish News on July 2. "Our goal is to work not only with Jews, but also with community leaders from various communities, and to find relevant areas in which they can engage with their peers in Israel on challenges and opportunities in different areas.
Nitzan started as the Acting Consul General of Israel in August 2020, after joining the Consulate as the Deputy Consul General in August 2018. In this capacity, he represents Israel in the five states of responsibility of the Consulate: Ohio, Delaware, Pennsylvania, New Jersey and New York. .
Nitzan attributed his two-day visit to Ohio to an invitation he received to attend the annual meeting of Ohio Jewish communities on July 1 in Columbus. He and his team then scheduled meetings and appearances with government officials from Cleveland and Columbus, Jewish Federation leaders, and community stakeholders.
Nitzan has met with political figures including Ohio Attorney General Dave Yost, Ohio Development Services Agency Director Lydia Mihalik, Ohio Secretary of State Frank LaRose, Executive of the Cuyahoga County Armond Budish and Cleveland City Council chairman and mayoral candidate Kevin Kelley. He also visited the Cleveland Jewish Federation in Beachwood, in addition to attending the OJC annual meeting panel where he spoke about Israeli-Ohio digital services.
Israel is a vital partner, especially as we work to move Ohio forward. It was an honor to welcome the Interim Consulate General of Israel to my office today and join them at the Annual Meeting of Jewish Communities in Ohio to discuss the desirability of continued collaboration. pic.twitter.com/NGeMCaSWPx

– Frank LaRose (@FrankLaRose) July 2, 2021
At the forefront of these conversations was the design of ways to exchange technology from Israel and Ohio. Nitzan and those he met also discussed methods of solving challenges at the community and state level through Israeli partnerships, such as empowering underserved youth, promoting STEM education, and supporting small and small. medium-sized enterprises in Israel and Ohio.
"It's about figuring out what we can learn from you, what you can learn from us," Nitzan said. "This creates this very meaningful relationship that will benefit both states and ultimately strengthen this very special bond between states and our peoples. "
Nitzan said efforts are also being cultivated in his partnerships that directly address and target anti-Semitism and its recent rise in the United States.
After more than a year of Zoom and social distance phone calls, Nitzan said it was greatly needed and appreciated to meet directly with government officials and community members. He and those he met worked diligently to brainstorm methods of collaboration between Ohio and Israel – a relationship Nitzan called "very strong."
"In the meetings we attended and participated in, we were greeted very warmly by the Jewish community and government agencies," Nitzan told CJN. "The discussions were very important. … Ohio is a major economic player for Israel in the United States.
The visit was a success in Nitzan's eyes, leaving him and the consulate with a lot of homework.
Nitzan described a very busy future for him as Acting Consul General, with areas of importance ranging from increased diversity and economic opportunities for collaboration to continued US-Israel relations.
One such effort that Nitzan highlighted was the Social Impact Initiative, whose goal is to bring Israel's "vibrant societal ecosystem" to local community leaders in the United States. Through an ongoing relationship, Israel and the United States could share progressive government policies to tackle societal issues like racism. , and in return empower minority communities.
"It was the first visit after the pandemic; we plan to be here much more often, "Nitzan said. "We have a lot to discuss both internally at the consulate and to send to Israel, to share these opportunities that we have learned here (with) Israeli companies to come to Ohio, to find the relevant partners in the area. 'Ohio, for the benefit of the local economy here.